Thanks to the generosity of donors and faculties, UBC is able to offer many awards to undergraduate students. Departments will help adjudicate/recommend over 900 awards annually.
"Awards" refers to awards, scholarships and bursaries. All awards are funded by annual gift, endowment or department funds. The availability of award varies year to year and Enrollment Services will communicate with departments on award funding availability four times a year.
For definition of the three award categories and a range of award related terminology, visit the Senate Regulations page. We highly recommend reading the Senate Regulations page.
Recommended Awards FAQ
Recommended Award Cycles
Student Eligibility Check
COOP Students
Students in Exchange Abroad
Award Credit Requirement Exception
Graduating Awards
Awards for Graduate Level Students
How to Submit Recommendation
There are two "cycles" per winter session for recommended awards: pre-academic session and post-academic session.
Pre-academic session cycle refers to awards that are typically given out in the first few months of the winter session. Adjudication is based on grades from the previous session (ie. 2016W award based on grades from 2015W).

Post-academic session cycle awards are adjudicated upon completion of the current academic session. Adjudication is based on grades from the current academic session.
Enrollment Services will notify departments per schedule below on the availability of awards and its budget. Upon notification, the faculty's scholarship committee is responsible for submitting recommendations to Enrollment Services for processing.
Notification Schedule:
Initial notification of pre-academic cycle awards: August 2017

First reminder of remaining pre-academic cycle award budgets: December 2017

Second reminder of remaining pre-academic cycle award budgets: February 2018

Initial notification of post-academic cycle awards: April 2018

Reminder of remaining budgets for all awards: June 2018

Final reminder of remaining budgets for all awards before award cycle is closed. This includes awards for student graduating in November: October 2018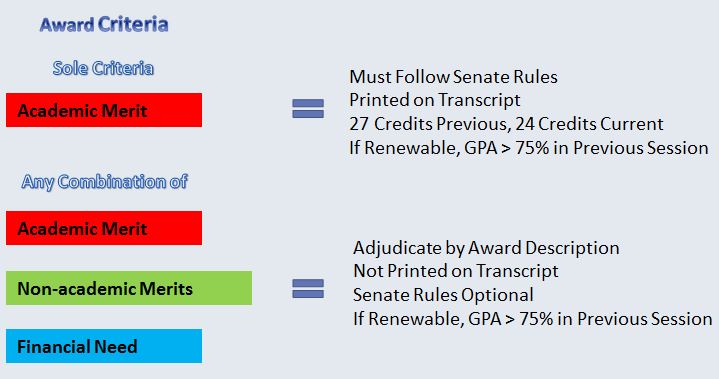 Link to Senate regulations on awards
Example of non-academic merits are leadership, community involvement, varsity athletics, financial need etc.
If a recommended student does not follow Senate regulations, please indicate on the award recommendation form why this student should still receive the award as the best available candidate.
Students who do not meet the award eligibility criteria due to dropping courses or withdrawing from school will have their award cancelled and recovered, unless an academic appeal is granted. Please have student contact ESP for further details on the academic appeal process.
If the recommended student will be on COOP, indicate on award recommendation form if it will be full or part time COOP:
Full time COOP students will have 100% of their award deferred to the following academic year

Part time COOP students can receive 100% of their award if they are registered in 12 or more credits in the current academic session.
Students who were in COOP last academic year can be considered for awards this academic year only if they were registered in 12 credits or more last academic year. The GPA will be calculated on the best 13.5 credits. They are eligible to receive 50% of the award, based on 50% full time course load.
Students on approved exchange programs through Go Global are eligible to receive awards if they are:
Registered in EXCH in both terms

Registered in EXCH in one term and minimum 12 UBC credits in second term

Registered in EXCH and COOP
Students' grades from exchange courses can't be considered for post cycle awards.
To be eligible for scholarships the following year, students can submit exchange transcripts to department for evaluation. Grades at exchange university should be considered if the courses taken counts towards degree completion and is comparable to a similar UBC offered course.
Award Credit Requirement Exceptions
Graduating Students
Students in their graduating year registered in less than 27 credits are still eligible to obtain/retain merit based scholarships and prizes. Please indicate this on the award recommendation form or there could be delay when assigning award.
Varsity Athletes
UBC varsity athletes can earn scholarships by taking a minimum of 18 credits, with letter confirmation from Athletics of commitment to varsity team.
Award Appeal Due to Extenuating Circumstances
Students must submit supporting documentation to their ESP for confirmation of inability to meet the minimum requirements under Senate Regulations. Successful award appeal will allow student to retain their recommended award.
Definition: awards that are recommended to graduating students, to recognize their career at UBC
As there is a very small timeframe between end of winter session and May graduation ceremonies, take note of the following when submitting recommendation for post-academic session awards
Submit your grades to SISC as soon as possible

We cannot assign graduating award to student with pending grades

May 8, 2017: Deadline for submission of graduating awards to be printed in the 2017 Spring Convocation Guide. Late submissions will not be printed in the Convocation Guide

May 8, 2017: Names for medal engraving is due by end of day. Departments responsible for each medal will be contacted before deadline.
Student does not have to be returning to studies the following year to receive a post-academic session prize. They must have been enrolled in 27 credits in the current session to receive a graduating prize, unless student needs less than 27 credits to graduate.
Awards for Graduate Level Students
Refer to: Awards and Scholarships for Graduate and Postdoc Studies for further information.
Award recommendations can be submitted via:
Instructions on how to use the two submission tools.
Completed award recommendation form can be submitted to award.recommend@ubc.ca for processing. Please allow up to 15 business days for processing.
Information to include in email body:

Department name

Award number(s) being recommended

If applicable, the reason why recommended student will fail eligibility test